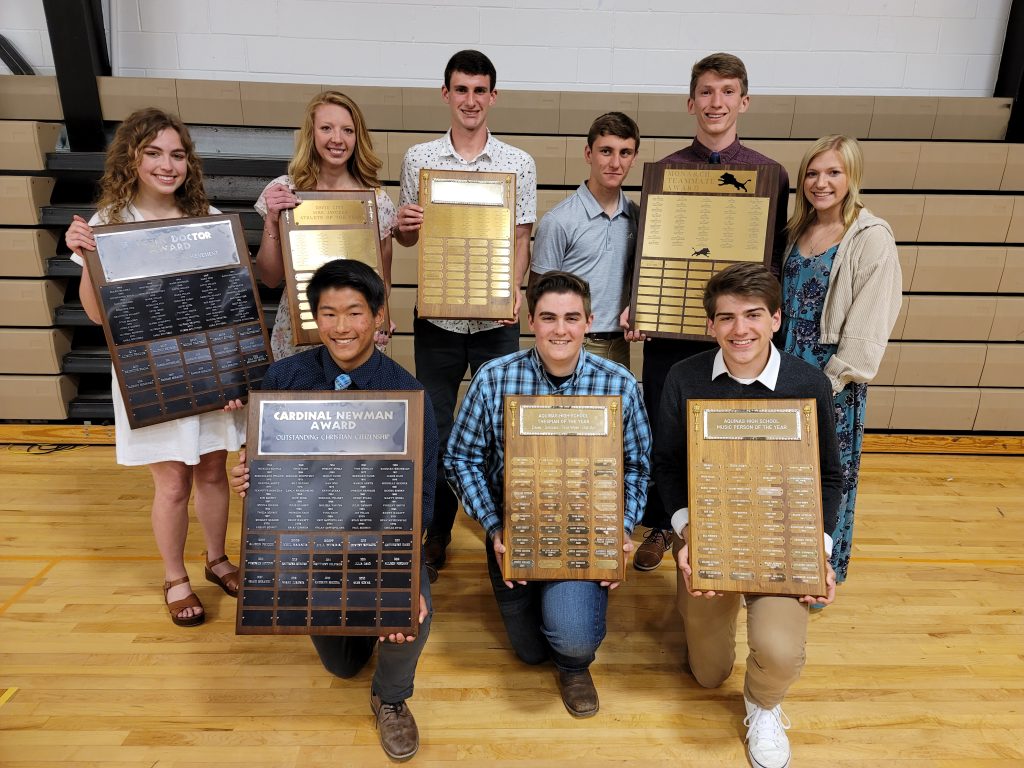 Aquinas Catholic Schools in David City hosted their annual awards night on May 10th. Pictured front row (from left to right) Benjamin Shonka, Simon Kelly, and Jude Yindrick. Back row: Ella Moravec, Madisen Jelinek, Payton Davis, Zachary Zitek, Jake Witter, and Bethany Emswiler.
Benjamin Shonka, son of Keith and Karen Shonka, is the Cardinal Newman Award Winner. This award is given to the senior who has best demonstrated character, attitude, and zeal for the Christian ideal and best exemplifies the aims and objectives of Aquinas Catholic.
The Angelic Doctor Award Winner is Ella Moravec, daughter of Mike and Laura Moravec. Ella imitated our patron, St. Thomas Aquinas, with the highest academic grade for the present school year.
The Monarch Teammates of the year are Zachary Zitek, son of Dale and Melani; Jake Witter, son of Jim and Jo; and Bethany Emswiler, daughter of Charles and Kristi. These athletes demonstrated a spirit of sacrifice by showing more consideration for their team than for themselves. They are a great example for any athlete who would wear the Monarch jersey. They have shown a Christian philosophy by sharing their time and talents.
Aquinas Athletes of the Year demonstrated using their God-given talents year round to development as a person and athlete with loyalty, commitment, and cooperation leading to athletic success. Madisen Jelinek, daughter of Eric and Amy; and Payton Davis, son of Ross Luzum and Jennifer Suehl, are the 2021 Aquinas Athletes of the Year.
The Thespian of the Year was awarded to Simon Kelly, son of Matt and Christina Podolak.
The Music Person of the Year was awarded to Jude Yindrick, son of Bill and Melissa.
Congratulations to all students who have shown excellence throughout the school year