Bishop James Conley blessed the Holy Family Early Learning Center in David City Sept. 5.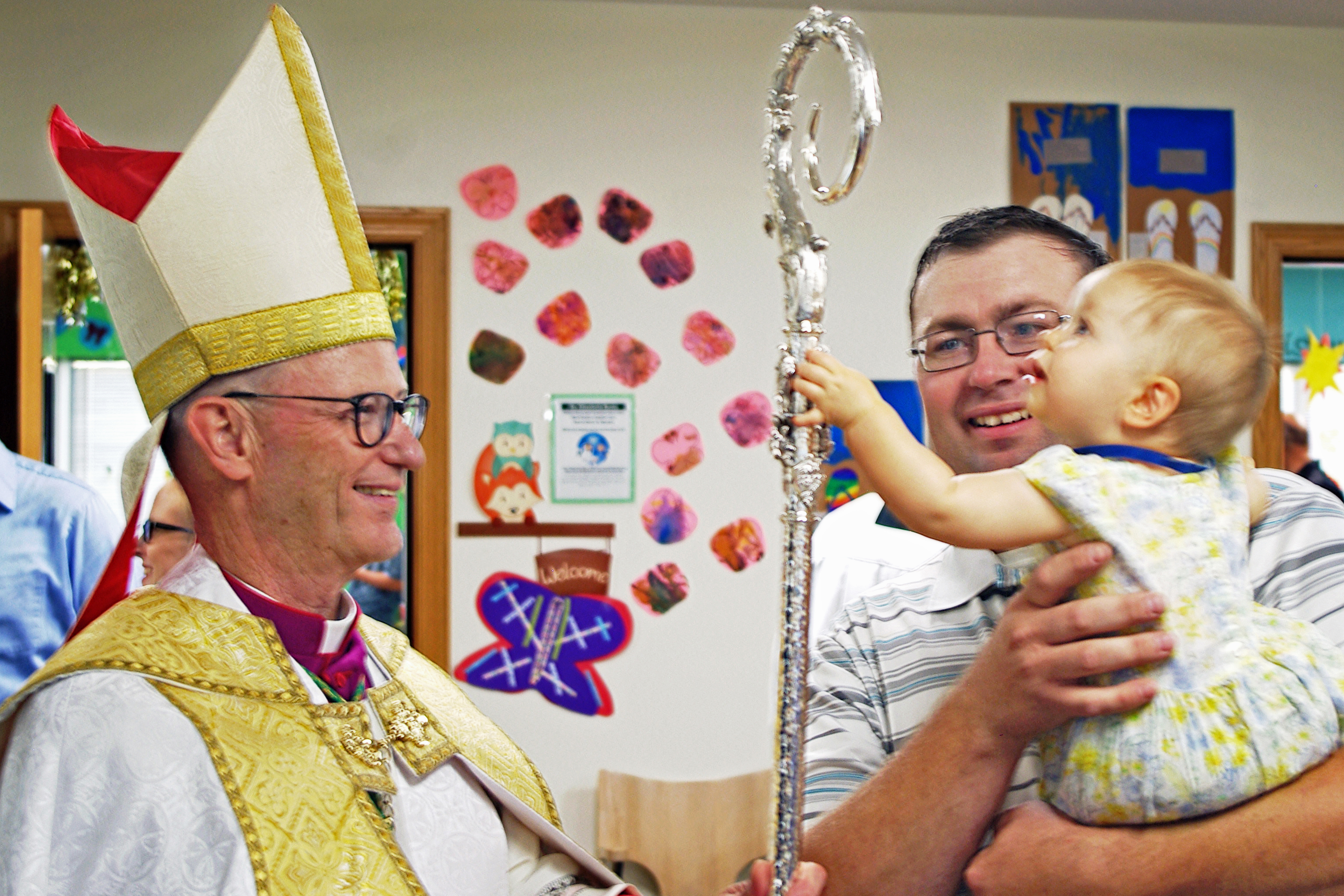 The center officially opened Aug. 1 with 43 children enrolled.
Donors, families, volunteers and staff were on hand to witness the blessing, followed by an open house and reception.
More than one year ago, following community requests for daycare, local citizen and Aquinas supporter Joan Matulka approached Father Sean Timmerman, chief administrative officer of Aquinas and St. Mary's Schools, about the school system building an early learning center on a piece of property across the street to the east of the school.
Matulka wanted to assist with the project in honor of her late mother, Marlene Benes, who loved children. A committee was formed and a feasibility study completed which showed there was a need for additional care in the David City area for children ages 6 weeks and up. The need for care of infants was where the greatest shortage was evident. The Center currently has a full infant room with 10 more on the waiting list.
"This project was completed successfully with the help of many local people giving of their time, talent and treasure," Father Timmerman said.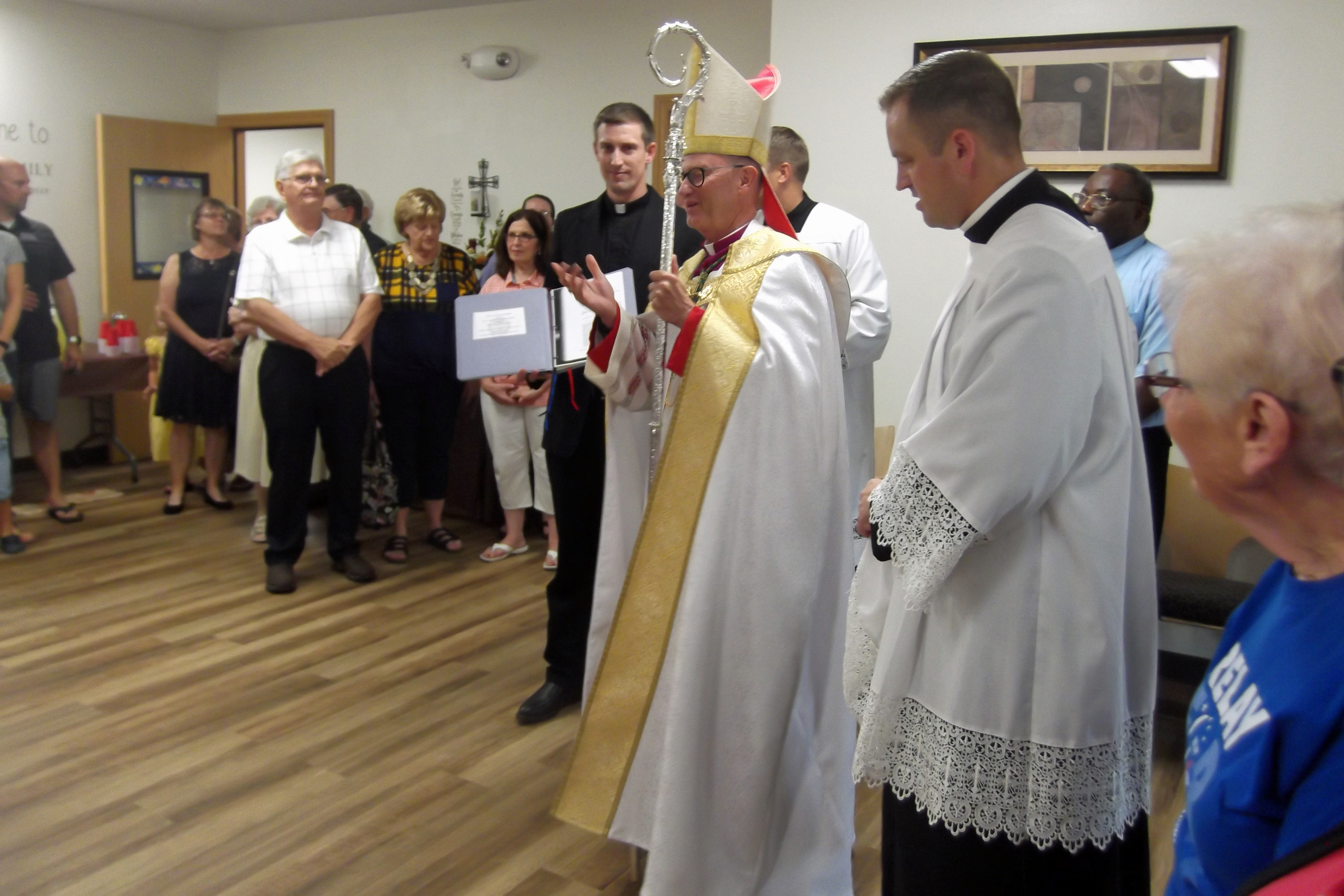 The construction was headed up by Gary Meister and Ken Polacek and they directed many local contractors along the way.
The Building and Trades program at Aquinas High School helped with portions of the construction, as well as building all the cabinetry for the center. The program typically undertakes a house project for the year, but conducted this work in place of that project and got to watch and learn from the other contractors working on the center.
Kevin Hittle, architect for the project, told Father Timmerman how impressive the quality of construction was for the building.
"I have worked on quite a few self-help projects over the years," he said, "and many times the quality of the finished product is less than inspiring. In your case, the quality is amazing. You are fortunate to have such talented craftsmen supporting you and your team."
In addition to the infant classroom for children ages 6 weeks to 18 months, there are classrooms for 18 months to 3 years, 3 to 4 years, 4 to 5 years, a center activity room and a kitchen. Each classroom is staffed by a head teacher and helpers according to the number of children.
"We were so blessed to have faith-filled staff members with a real passion for providing quality care for children apply right when we needed them," said St. Mary's principal Sarah Zook, when asked about helping get the center up and going.

"It was important to all of us to create a center with a strong education focus in a faith-filled environment,"
said Mary Coufal, director.
Jessica Miller, assistant director, works with staff to provide active time for children to practice their developmental concepts, age-appropriate faith lessons, and peaceful rest time to renew.
The center provides the opportunity for full-day preschool and pre-kindergarten as children who are enrolled in St. Mary's pre-kindergarten or preschool also are walked across the street to St. Mary School when it is time for the other half of their day. The teachers at the Holy Family Early Learning Center have worked with Mrs. Rachel Wisnieski at St. Mary's to ensure that the curriculum lines up and flows from one age group to the next, and that they are supporting the instruction given at St. Mary.
School-aged children can also come to the center for the extended school program before and after school to make days easier on working parents and families living in the outlying communities or with early and late work schedules.
-Published by Southern Nebraska Register