5 Reasons to Join Teens for Life
1. Join others teens praying for the unborn at the clinic, encouraging those in crisis, to re-consider their abortion decision
2. Contribute assistance to mothers in an unplanned crisis pregnancy by donating with TFL to crisis pregnancy centers
3. Encourage our loved ones to see the beauty in life now, before they should ever face an abortion decision
4. Show our dear Lord that we do love Him and that we know abortion is wrong and we want it to stop, too
5. Be an example that shows our Lord and others that abortion is never an acceptable option
Aquinas Teens for Life promotes respect for the gift of all human life from the moment of conception until natural death. The club seeks to educate its members and others about issues that threaten the sacredness of human life, especially the evil of abortion, and to inspire participation in various Pro-Life activities on a local, state wide, and national level.
Once a month, a small group of students travel to Lincoln to pray in front of the abortion clinic. Through the P.A. system, together the students and staff of Aquinas pray to end abortion with the students at the clinic.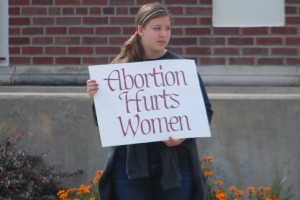 Teens for Life Club's annual Spiritual Adoption Campaign raises funds and awareness of the 4,000 babies that are aborted every day. Participants spiritually adopt and name an unborn baby in danger of abortion and pledge to pray for this baby for nine months. All spiritually adopted babies' names are displayed on a banner located in both Middle and High School, as a reminder to pray for these, and all babies in danger of abortion. Each adoptive parent is given a prayer card with Archbishop Fulton J. Sheen's prayer:
Jesus, Mary and Joseph, I love you very much. I beg you to spare the life of the unborn baby that I have spiritually adopted who is in danger of abortion.