Strategic Planning 2020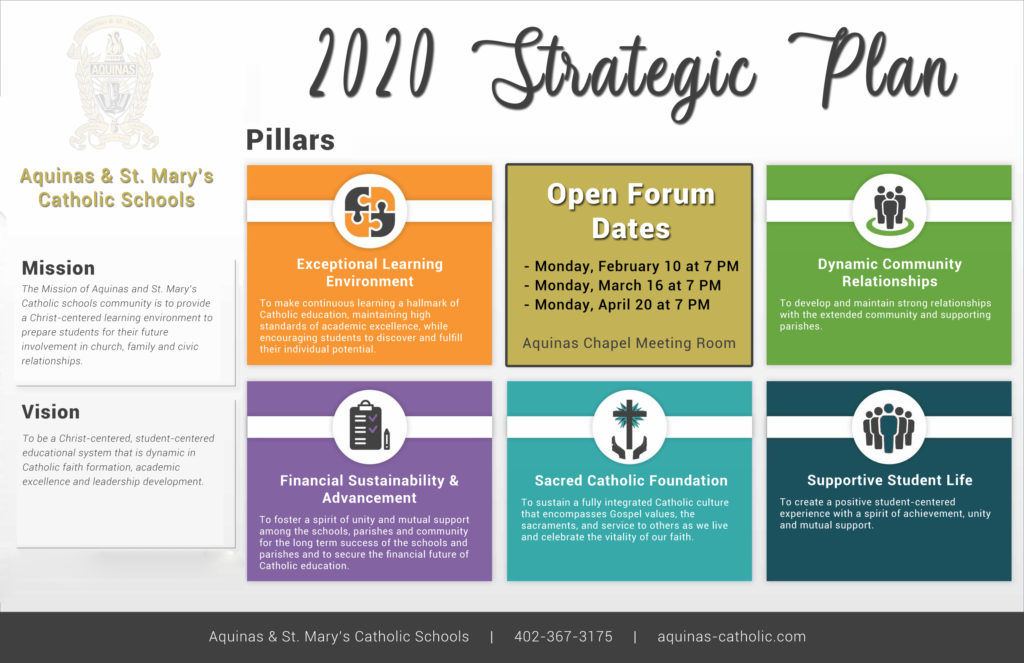 Initial meeting of Pillars and Open Forum
Pillar meeting:
Volunteers who applied to serve on one of the five pillars met at 6pm where Mrs. Sarah Zook gave a brief overview on what needs to be done for the five year plan.  After the introduction, pillar members split up into classrooms to do a SWOT analysis on their pillar and to discuss questions that applied to needs for that pillar.
Open Forum:
Mrs. Zook gave a brief overview of the five year plan process to those at the Open Forum.  There were over 50 people in attendance.  She encouraged those in attendance to reach out to those on the Pillars if there were implementation goals they would like considered for the 2020-2025 plan.  Anyone wanting to contribute, can contact Fr. Timmerman, Mrs. Zook or Mrs. Deb Svec or reach out to Pillar committee members.  Those pillars will be meeting before the next Open Forum when we will have more detailed information to present for anyone in attendance to consider and give feedback.  The Pillars are the same as from the last plan:
Supportive Student Life
Sacred Catholic Foundation
Exceptional Learning Environment
Dynamic Community Relationships
Financial Sustainability & Advancement
Mrs. Zook touched on the Mission Statement and shared how the faculty and staff would like to see it adjusted.  Those in attendance gave a few suggestions as well.
Mrs. Zook encouraged those who were in attendance to look at the SWOT Analysis pages that the small groups had put together to see if there was anything else they would like to add.
The next open Forum will be:  March 16, 2020 at 7pm in the Chapel Meeting Room