Holy Mass Monday through Friday at 8:00 AM
Saturday Vigil Mass will be at 4:00 PM
The Mass will be LIVE Streamed on Facebook.
You do not need to have an account to watch.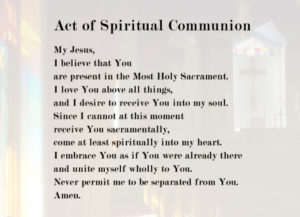 Stream Facebook videos to a TV
Make sure your TV is connected to a streaming device (example: Apple TV, Chromecast or Samsung TV) and is on the same Wi-Fi network as your mobile device or computer.
Open the Facebook app on your mobile device or computer and find the video you'd like to stream. Search for Aquinas Catholic Monarchs
Tap the video to expand it to full screen mode.
Tap in the top right of the video.
Select the TV where you'd like the video to play.
Download the Facebook Watch TV App
Go to the app store for your television platform (see our list of supported TVs and devices) and download the Facebook Watch TV app.
Open the Watch app on your TV. Go to Your Videos then click Continue with Facebook.
You'll see a screen with a code:
To confirm the code that appears on your TV, open the Facebook app on a mobile device, then tap the notification at the top and tap Approve, then tap Continue. Or, you can go to facebook.com/device on a computer or phone, then enter the code manually and click or tap Continue.