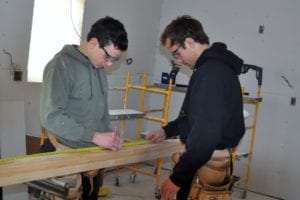 Building Trades Course
The Building Trades Course provides students with an opportunity to get a real hands-on experience in constructing a full scale home with commonly used tools and materials found on today's construction sites. Sine 1999, Aquinas students have completed a houses during the academic school year. This class is available to sophomores through seniors. In certain occasions, adults have been allowed to take the course as well.
Cabinetry Course
In the Cabinetry course students will read blueprints and construct a set of cabinets, using the Aquinas shop equipment, for the Building Trades house project. Students learn how to efficiently read tapes, safely set up and use a table saw to make cabinet joints, assemble the cabinets, install hardware and finally install the cabinets into the home. This course is available to students freshman through senior.
CAD Programming Course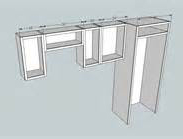 In the CAD course students will be using the computer software, to design cabinet blueprints which will be used to construct the cabinets for the new home. This course is available to students freshman through senior.
Entrepreneurship Program
Entrepreneurship provides students with the skills needed to effectively organize, develop, create, and manage their own business. This course includes economic, human resources, and marketing and business foundations. Students will develop a written business plan for a business of their choice. Instructional strategies may include computer/technology applications as well as real and/or simulated occupational experiences and projects in the marketing functions.
Introduction to Broadcast Journalism
This course focuses on teaching the basics of broadcast journalism, providing students with basic skills to shoot and edit video to tell a story, and finally producing a period titled, "Magazine" to highlight the various activities and issues relevant to Aquinas Catholic student and community member.
Senior Service Internship
The Aquinas Senior Service Internship Program provides an opportunity for seniors to explore a potential career area. The student, with the Principal's approval, may be able to participate in a local internship for all or part of the school year. This program allows seniors the opportunity to pursue their unique interests and passions within a business or a professional field. This experience offers the student a valuable opportunity to decide whether that particular field is a viable career option, while gaining insight to the responsibilities of life beyond school.
Advanced Science Lab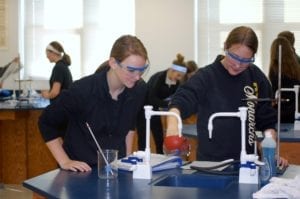 Aquinas' Science Lab was remodeled in 2007 to accommodate hands-on learning in Physics, Chemistry, and Anatomy.
Journalism
Journalism students learn to use a digital camera and edit photos using Adobe Photoshop. They also learn design layout and content management using Adobe InDesign.
Lincoln Diocesan Technology Initiative
Aquinas & St. Mary's Catholic Schools are blessed to be included in the Lincoln Diocesan Technology Initiative that started in 1996 to provide "state-of-the-art technology to diocesan schools and institutions as a way to improve the education process, enhance curriculum, and assist teachers and school administrators throughout the Lincoln Diocese with their missions to provide students with an education that brings them closer to God." Read more about the initiative here.
Every Aquinas educator has a tablet and every Aquinas classroom is equipped with SmartBoard Interactive Technology. SmartBoards are interactive projectors with white boards. This technology allows the educator to have focused learning and interactive group learning.