With the Diocese of Lincoln, Four Corner's Heath, and area doctors Aquinas & St. Mary's have created an Illness Policy to anticipate and create protocols to keep students, teachers, and staff safe and healthy while at school.
See the Illness Policy Here
Tuition Management

PowerSchool for Parents & Students
PowerSchool Learning for Students

Grades 6-12

Grades K-5
School Code AQUI03

Registration for New and Returning Students
Inscripción para estudiantes nuevos y antiguos
The Standard Response Protocol (SRP)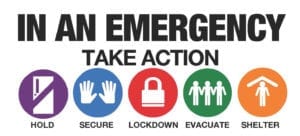 SRP is action based with four specific actions that can be performed during an incident. Execution of the action is performed byactive participants, including students, staff, teachers and first responders. Please take a moment to review these actions. Students and staff will be trained and the school will drill these actions over the course of the school year. More information can be found at http://iloveuguys.org.
Witness Stories
Aquinas Catholic Schools hosts a variety of speakers to not only educate the students but inspire them. Any speakers will be listed on the website calendar or the emailed weekly calendar. Below are 'Witness Stories' that are displayed throughout the school as an important reminder of what they learned or experienced from a particular speaker.